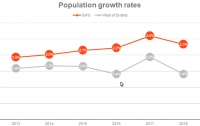 Recession will hit job-poor parts of Western Sydney very hard
Jul 02, 2020 15:55 pm UTC| Economy
This is the second of three articles based on newly released research on the impacts of a lack of local jobs on the rapidly growing Western Sydney region. After 2016 but before COVID-19, it should be said Western...
Congestion-busting infrastructure plays catch-up on long-neglected needs
Apr 03, 2019 10:29 am UTC| Insights & Views Politics Economy
Infrastructure spending is one of the central themes of Treasurer Frydenbergs budget speech. His headline announcement was the promise to increase the ten-year federal infrastructure spend from the A$75 billion announced...