High-end graphics cards for gaming with 4K and ray tracing is the rage right now. However, many gamers are still perfectly happy with exploring their favorite games with just the 1440p setting. Luckily, chip makers like AMD are still pushing out mid-range products such as the newly announced AMD RX 6700 XT.
AMD RX 6700 XT specs: What to expect
The AMD RX 6700 XT was the star of the company's Where Gaming Begins episode 3 that premiered Wednesday on YouTube. Right at the beginning of its presentation, AMD corporate VP and GM for graphics business unit Scott Herkelman said described the new card as "Designed specifically to accelerate your gaming experience at 1440p resolution."
The 7nm card joins AMD's Navi 22 GPU family built on RDNA 2 architecture. AMD RX 6700 XT has 40 compute units and 40 ray accelerators, making quite a scale-down of Radeon RX 6800 XT and Radeon RX 6800.
Its base frequency is listed at 2321 MHz and with a boost frequency of up to 2581 MHz. AMD emphasized its capacity to run games at 1440p resolution at max settings, which is made possible by a 12GB GDDR6 max memory capacity with up to 384 GB/s bandwidth.
AMD also presented benchmark results to compare the AMD RX 6700 XT's performance versus its counterparts – Nvidia RTX 3060 Ti and RTX 3070 – when playing at 1440p resolution at max settings. The reported scores put the AMD RX 6700 XT ahead for games such as "Assassin's Creed: Valhalla," "Call of Duty: Black Ops – Cold War," "Dirt 5," and "Hitman 3."
It is not surprising for AMD and other graphics card makers to give special attention to 1440p-focused cards. As mentioned during the Wednesday presentation, a significant portion of the PC gaming market uses 1440p monitors. This is also not an entirely shocking detail since this gaming resolution fills the gap between the quite dated 1080p setup and 4K, which requires expensive hardware.
AMD RX 6700 XT release date, availability
AMD RX 6700 XT will be released on March 18 for $479, but almost every potential buyer is already worried about the GPU's availability. There has been a very limited supply of processing chips for some months now that even US President Joe Biden had to step in with an executive order to address the shortage. However, it might take some time before manufacturers and consumers could see the effect of Biden's intervention.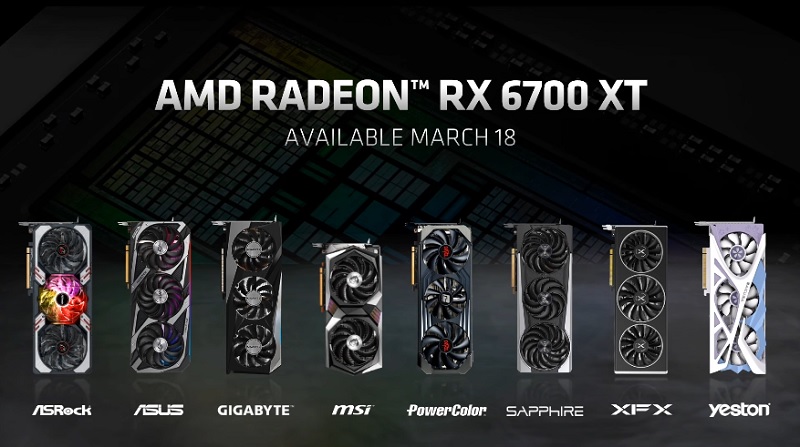 AMD / YouTube screenshot
AMD recognized that limited stocks will be an issue once AMD RX 6700 XT launches. "Demand for GPUs is at an all-time high right now," Herkelman said. The company did not promise that everyone can get the card, but they have revealed a list of retailers where customers can buy the GPU on March 18.
Featured photo by Vladimir Malyutin on Unsplash