There are many video game announcements bound to happen in the coming weeks, and the release date of the new "Microsoft Flight Simulator" on consoles might join the mix. A fan recently spotted the game has received an age rating for the "Xbox Series" platform, and it is usually a good indication that a game's launch is happening soon.
The Entertainment Software Rating Board (ESRB) has rated the "Microsoft Flight Simulator" for the Xbox platform as a game suitable for everyone, or without age restrictions. The rating, first spotted by Reddit user Grimey_Rick, also reiterates Xbox's previous announcement that the game's console launch is planned for the new-gen consoles only.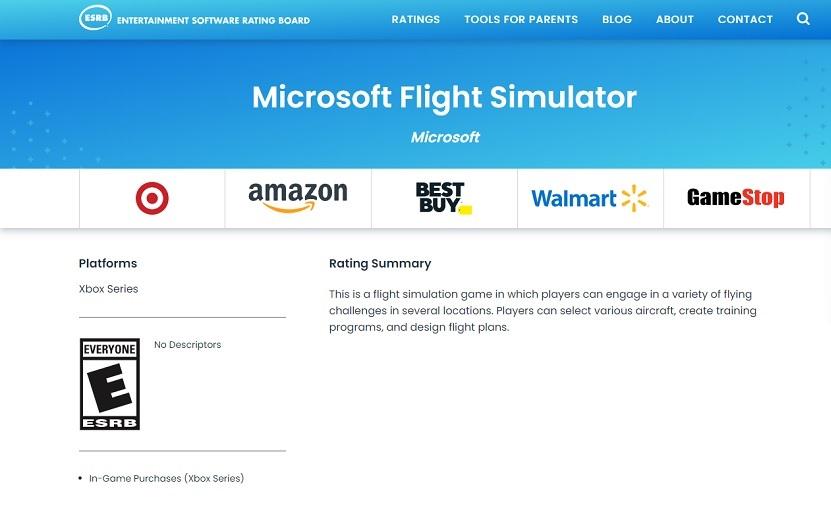 Screenshot from ESRB
Finding the "Microsoft Flight Simulator" console rating around this time also lines up with the developer's original plan to release the game on Xbox Series X/S sometime this summer. Considering that E3 2021 is just around the corner, it would not be surprising if an official launch date would be confirmed soon. Xbox and Bethesda are having a join media event on Sunday, June 13.
Meanwhile, it also looks like the developers are making subtle preparations for the imminent launch of "Microsoft Flight Simulator" on Xbox Series X/S. The game offers very realistic views of real-life locations but it also comes with some high-end system requirements, including the needed storage space to install it.
The simulator initially required at least 170GB of free disk space, which could be more of an issue on consoles as they tend to have less internal storage space. However, patch 1.16.2.0 released last May 25 confirmed that this has been somehow addressed. Since the update and after some optimizations, the base "Microsoft Flight Simulator" download will only need 83GB.
There is no Xbox One version planned at the moment. Fans are divided on whether it would be necessary, considering the game's system requirements. But the developers previously hinted they have not yet ruled out an Xbox One port.
In an interview with Eurogamer last January, "Microsoft Flight Simulator" head Jorg Neumann said, "Obviously memory matters. Certainly on Ultra settings, you need a big PC - well, that's a lot, lot more memory than what you had on an Xbox One. So it's a journey, like most things, you know - let's get the Xbox Series X and S versions done, and then we'll look ahead after that."