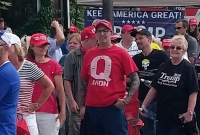 Nearly a century ago, a QAnon-like conspiracy theory propelled candidates to Congress
Sep 02, 2020 14:02 pm UTC| Politics
Marjorie Taylor Greenes Republican congressional primary win in Georgia ensures, in all likelihood, that the heavily Republican district will be represented by a QAnon conspiracy theorist in the 117th Congress. But...
Many hate crimes never make it into the FBI's database
Jan 07, 2019 13:24 pm UTC| Insights & Views Law
The FBIs latest numbers showed a 17 percent increase in reported hate crimes in 2017. But what does this actually say about the actual number of hate crimes occurring in the U.S.? Not much. The Hate Crime Statistics...