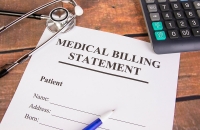 Surprise medical bills continue during coronavirus time, and Congress still misses major points
May 14, 2020 10:24 am UTC| Law
I am a health policy scholar who became a patient last year, when I needed a surgical repair to a heart valve. My two identities united the day after my operation, when a congenial woman from the admissions department came...
'Uncut Gems' celebrates Manhattan's Diamond District, a neighborhood that's a window into the past
Jan 18, 2020 12:16 pm UTC| Insights & Views Business
In Uncut Gems, an overleveraged diamond jeweler named Howard Ratner, played by Adam Sandler, frantically tries to cover his bad business bets by making bigger ones. The film brilliantly captures the manic energy of New...