COVID-19 vaccines: how and when will lower-income countries get access?
Jan 19, 2021 05:50 am UTC| Health
COVID-19 vaccination programmes are gathering pace in high-income countries, but for much of the world, the future looks bleaker. Although a number of middle-income countries have started rolling out vaccines, widespread...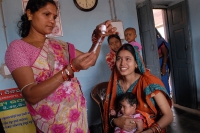 India is key for global access to a COVID-19 vaccine – here's why
Aug 26, 2020 11:22 am UTC| Health
The great COVID-19 vaccine race is on. Pharmaceutical companies around the world are going head to head, while governments scramble to get priority access to the most promising candidates. But a richest-takes-all...