Why Trump's Senate supporters can't overturn Electoral College results they don't like – here's how the law actually works
Jan 06, 2021 08:51 am UTC| Politics
On Jan. 6, the United States Congress will gather in a joint session to tally the votes of the Electoral College, which cast its ballots in state capitols last month. In his role as president of the Senate, Vice President...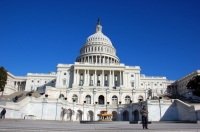 Congress could select the president in a disputed election
Nov 08, 2020 10:55 am UTC| Politics
President Donald Trumps campaign is challenging results of battleground states with lawsuits, hoping to litigate its way to a win 2020 election. But the Founding Fathers meant for Congress not the courts to be the backup...