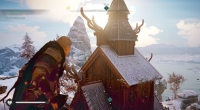 Assassin's Creed: after 13 years, 12 games and a ton of sales, what's the secret to the franchise's success?
Dec 19, 2020 10:00 am UTC| Entertainment
Ubisofts Assassins Creed series is one of the worlds best-selling video game series. Featuring settings ranging from Ancient Greece to the French revolution, Assassins Creed: Valhalla, released last month, takes the player...