Paris attacks to impact Bank of France November Business Sentiment Indicator?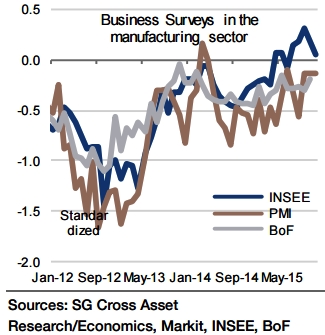 Tuesday, December 8, 2015 6:22 AM UTC
Bank of France's Business Sentiment Indicator is expected to remain unchanged in the month of November at 99 by the market consensus. However there are mixed expectations from other banks that the indicator might drop modestly as well, due to the Paris attacks.

These attacks are expected to hit the confidence and have negative impact on the economic indicators. But these effects are infrequent and the history indicates that the effect could be negligible.

"We expect the Bank of France business sentiment indicator to follow suit and fall from 99 to 98. Consequently, we expect the Bank of France indicator to be closer to its long-term average of 100 over the coming months...", says Societe Generale in a research note.