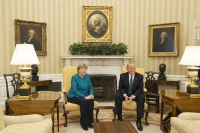 Coronavirus: Europe struggles to adapt to a post-American world
May 14, 2020 10:34 am UTC| Economy
Europeans are not looking to the US to lead during the pandemic emergency, as they might have done in the past. Over the past four years, Europe has moved from shock at Donald Trumps election to confusion about what it...
Nancy Pelosi on Brexit: why Irish-US diplomacy is a powerful force in border talks
Apr 27, 2019 06:28 am UTC| Insights & Views Politics
On her recent visit to Europe, Nancy Pelosi, the speaker of the US House of Representatives, addressed members of Irelands Dail (the lower house of the Irish parliament). She was attending an event that marked the...