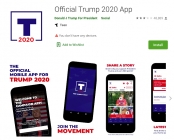 From recording videos in a closet to Zoom meditating, 2020's political campaigns adjust to the pandemic
Oct 09, 2020 08:00 am UTC| Politics
President Donald Trump may have eschewed masks and distancing in this pandemic year of campaigning, resulting in both his diagnosis of COVID-19 and the spread of the disease in the White House. But others have figured...
Iowa caucuses: It's not just candidates who face uncertainty – it's their campaign workers, too
Feb 03, 2020 12:29 pm UTC| Insights & Views Politics
Soon, there might be a little clarity about the Democratic nomination race, maybe even for those workers in Iowa who staff the presidential campaigns. 2020 is a banner year for staff in Iowa, given a wide field of...