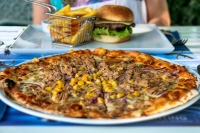 Coronavirus diets: What's behind the urge to eat like little kids?
May 14, 2020 10:16 am UTC| Health
Have you noticed grabbing an extra bag of chips at the supermarket? Or eating more frozen dinners than you used to? Or even eating snacks that you havent eaten since you were a little kid? The COVID-19 pandemic has...