Why the EU's global fishing activities can't be called sustainable yet
Jan 22, 2021 08:03 am UTC| Insights & Views
The EU has a large fleet that fishes outside European waters. Nearly a third of its catch comes from non-EU waters, most of which belong to developing countries. Where and how much the EUs external fleet can fish is set...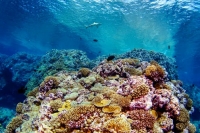 We tracked coral feeding habits from space to find out which reefs could be more resilient
Oct 20, 2018 15:05 pm UTC| Insights & Views Nature
Coral reefs are an invaluable source of food, economic revenue, and protection for millions of people worldwide. The three-dimensional structures built by corals also provide nourishment and shelter for over a quarter of...