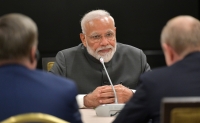 China and India's deadly Himalayan clash is a big test for Modi. And a big concern for the world.
Jun 21, 2020 11:31 am UTC| Insights & Views
`Sometime on Monday, an Indian army patrol skirmished with Chinese troops in the Galwan River Valley, high in the Himalayas. According to reports, no guns were involved, but the fight left at least 20 Indian soldiers...