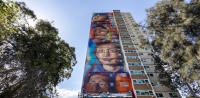 The many faces of social housing – home to 1 in 10 Australians
Mar 15, 2020 06:04 am UTC| Economy Real Estate
Social housing is part of the lives of a surprising number of Australians. On any one night in Australia, just over 4% of households rent social housing. Yet it has housed many more people than this for brief, and...
Dangerous to human health: that's a housing problem much bigger than a few high-profile apartment blocks
Jul 22, 2019 13:24 pm UTC| Insights & Views Health
Australias biggest city is abuzz with news of yet another housing development declared unsafe for human habitation. This time it is apartments built on a toxic dump the local council fears was not properly cleaned...