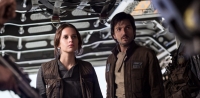 Star Wars goes Rogue – but will this risky move backfire?
Nov 23, 2016 05:00 am UTC| Entertainment
Star Wars: The Force Awakens left audiences desperate to know WWLS? (What Will Luke Say?) But fans will be waiting quite some time to find out. The new film, Rogue One: A Star Wars Story, which opens in Australia on...

Friday essay: Fury Road, The Force Awakens and the 'real' vs digital effects furphy
Apr 10, 2016 00:46 am UTC| Insights & Views Entertainment
There has been a lot of talk recently about the superior results achieved with real effects and stunts in Mad Max: Fury Road (2015) and Star Wars: The Force Awakens (2015). Both films have cleverly traded on audience...