Android 12 beta 2 starts rolling out for testers on Wednesday, and Google has added new features focused on privacy. For one, the update introduces new toggles where users can easily enable or disable all apps' access to the camera and microphone.
Mic and camera toggles and indicators
Many Android apps ask users to grant them access to cameras and microphones, even the ones that are not exclusively used for taking photos or recording audio. It is then understandable if users wanted to make sure these permissions are disabled whenever these apps are not in use. Some of the upcoming Android 12 features, which are now available on beta 2, are separate toggles for camera and microphone access that can be found directly from Quick Settings.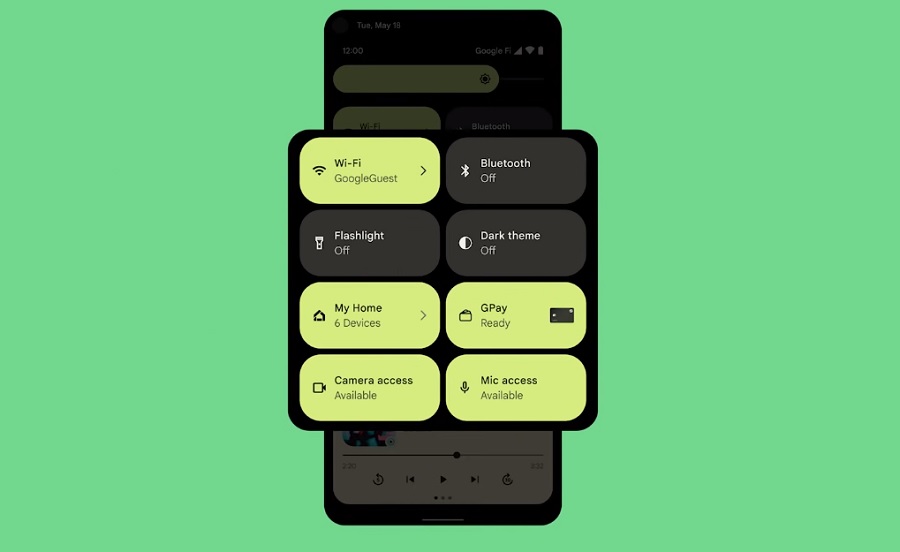 From Android / YouTube screenshot
As can be seen in the image preview, two new toggles named "Camera access" and "Mic access" were added in Android 12 beta 2. Google said these settings could also be found through Settings > Privacy. When the toggle is used to disable camera access and mic access, apps will receive "blank camera feed" and "silent audio." The toggle does not necessarily remove the granted access to these device components. When an app that uses a camera and microphone is opened, a device running Android 12 will display a reminder that these are currently disabled from the system-wide toggle.
Android 12 users will also be notified when the camera and microphone are being used through the new indicators on the upper-right corner of the screen. Users can tap the indicator from Quick Settings to view which apps are using the microphone and camera. With that, Google advises developers, "Don't access the microphone or camera until the user has explicitly given permission to your app."
Android 12 beta 2 adds Privacy Dashboard
Another new feature expected to launch with Android 12, and has been added in beta 2, is the privacy dashboard. It gives users a quick summary of the apps that accessed their location, camera, and microphone for the past 24 hours. This feature will provide a more detailed timeline of what apps used the said components and what time or day they were accessed.
Per the Android 12 release timeline, beta 3 should be released by July. The update will reach platform stability by the time beta 4 is rolled out, which is currently slated in August. The final version of Android 12 does not have a release date yet, but it is likely to launch by the end of the year.