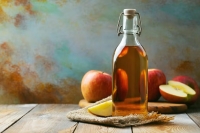 Apple cider vinegar: is drinking this popular home remedy bad for your teeth? A dentist explains
Jan 24, 2023 05:42 am UTC| Health
Apple cider vinegar has become a popular home remedy in recent years and has been used for centuries in cooking and medicine. Its thought to help with a wide range of health issues, including high cholesterol, blood sugar...
Not everyone uses a toothbrush and toothpaste to clean their teeth – here's what science says about their effectiveness
Jul 07, 2019 15:16 pm UTC| Insights & Views Science
Most people use toothbrushes, toothpaste and dental floss to clean their teeth, but their use is by no means universal. Many indigenous groups, as well as people in developing countries, use traditional techniques to clean...