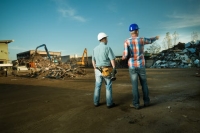 Australia needs construction waste recycling plants — but locals first need to be won over
Jun 20, 2021 11:58 am UTC| Business
Strong community opposition to a proposed waste facility in regional New South Wales made headlines earlier this year. The A$3.9 million facility would occupy 2.7 hectares of Gunnedahs industrial estate. Its intended to...
We create 20m tons of construction industry waste each year. Here's how to stop it going to landfill
Jul 12, 2019 09:49 am UTC| Insights & Views Nature
The Australian construction industry has grown significantly in the past two decades. Population growth has led to the need for extensive property development, better public transport and improved infrastructure. This...