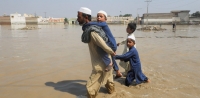 Pakistan floods: what role did climate change play?
Sep 05, 2022 04:28 am UTC| Nature
Pakistan is experiencing the most devastating and widespread floods in its history, with the countrys climate minister saying waters have reached across a third of the nation. The growing tally of impacts is dire. More...