As most video game fans know by now, Rockstar Games is the latest major studio to suffer a massive leak. The developer has confirmed that the "GTA 6" videos that spread online recently are real, but it assured fans that this would not affect the game's development.
To recap, a GTAForums user recently leaked the videos and shared links where people can download "GTA 6" footage. Up to 90 clips were released online, but they were reportedly from an early build of the game.
Rockstar Games has since responded to the leaks, confirming that the videos were taken after it suffered a security breach. "An unauthorized third party illegally accessed and downloaded confidential information from our systems, including early development footage for the next 'Grand Theft Auto,'" the developer said on Monday.
While many fans frolicked at the stream of early "GTA 6" clips that circulated online, others were concerned that a leak of this magnitude would delay the game. The good news is Rockstar Games does not expect this to be the case. "At this time, we do not anticipate any disruption to our live game services nor any long-term effect on the development of our ongoing projects," Rockstar Games added.
Rockstar Games also appears to have reached out to well-followed online "GTA" communities to remove all links and references to the leaked "GTA 6" videos. GTAForums, where the clips were originally shared, complied with the request and now displays a banner message that says users can discuss the leak, but they cannot share any media or links "to leaked copyrighted material."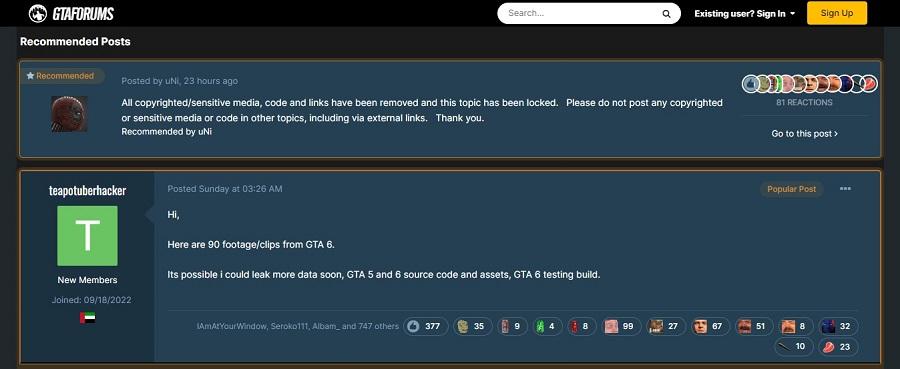 From GTAForums
The hacker's original post is still up on GTAForums, but it no longer contains the links to the leaked videos. They also claimed to have acquired the source codes for "GTA V" and "GTA 6" and said they were considering releasing them as well.
Reports with screenshots from a Telegram group chat showed the hacker planned on selling the "GTA V" source code for a five-figure amount. In the same conversation, they said the "GTA 6" source code is "not for sale at this moment."
Rockstar Games officially announced the development of the next "GTA" game last February but offered no other details. A report later said "GTA 6" will feature the franchise's first female main protagonist with a full storyline. The game is expected to be set in the Miami-inspired Vice City.