GoPro has practically confirmed the arrival of its next flagship camera, likely named GoPro Hero 9, will happen this week. Before that happens, however, there are a few more leaks that emerged online, including a new protective feature in its design.
GoPro Hero 9 design: Dual-screen is probably not the only new addition
The introduction of a second colored display was reported months ahead of the first official post about the next GoPro flagship camera. Over the previous weeks, more potential evidence appeared in the wild suggesting that it is one of the most likely highlights in GoPro Hero 9.
More recently, WinFuture journalist Roland Quandt shared a photo supposedly showing a removable part of the lens for the upcoming camera. It is unclear if the entire lens would be replaceable, and some fans suggest the lens cover might be the only removable part. Even then, it would still be a nice addition for future GoPro Hero 9 users considering that most of them love capturing their action-packed adventures, aka activities where cameras are more prone to getting deep scratches and falling off.
GoPro Hero 9 specs appear in earlier leaks
Quandt has also provided the potential first look at the camera's front-facing colored display, among other specs and camera features to be expected from the Hero 9. Meanwhile, GoPro released a promo teaser for an announcement on Wednesday, Sept. 16. A video very briefly shows a colored screen with a wallpaper that looks the same as the leaked promo materials released by WinFuture.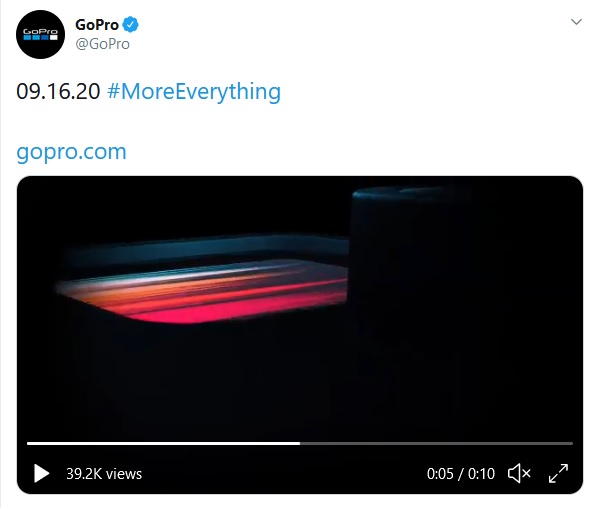 Screenshot from Twitter/@GoPro
More upgrades are expected in GoPro Hero 9 as it was also reported to sport a bigger battery and more camera resolution than its predecessors. The upcoming action camera would come with a 1,720mAh battery while HERO8 Black's capacity is at 1,220mAh. Those numbers mean around 40% increase; however, GoPro is expected to only advertise around 30% longer battery life and that could be explained by the addition of a colored screen in the front.
GoPro Hero 9 release date: Where to wait for the announcement
Other than a special announcement on Wednesday, GoPro did not say anything about an event. In the teaser on Twitter, the company only attached the link to its official website, so it is possible that no streamed event is being planned but it should not be completely ruled out. Tech fans can follow GoPro on social media or tune in on their website on Wednesday for the potential official unveiling of GoPro Hero 9.
Featured photo by Gerson Repreza on Unsplash