Most smartphones powered by the new Qualcomm Snapdragon 888 chipset are expected to come with high prices, but that is not the case for Realme GT 5G. For less than $500, the device will allow its users to experience the computing power brought by the high-end mobile processor.
Realme GT 5G specs: What's included for less than $500
The highlight of Realme GT 5G is undoubtedly the Snapdragon 888, especially considering its price tag. Qualcomm announced the SoC in late December and has been previously shipped in premium flagship devices like Samsung Galaxy S21 and Xiaomi Mi 11, with more to come throughout the year.
Snapdragon 888's clock speed is up to 2.8 GHz and equipped with the Adreno 660 GPU, which is advertised as 35% faster than its predecessor. The 5nm processor also comes with the X60 modem for the 5G network. These SoC specifications and the fact that the device costs at least CNY 2,799 or just above $430 are enough to give Realme GT 5G the attention it is getting
Realme GT 5G also comes with other flagship-level specs such as the 120 Hz display refresh rate, pre-installed Android 11 operating system with the Realme UI 2, and a 6.43-inch 2400 x 1080 AMOLED panel. Available RAM and storage configurations include 8 GB + 128 GB and 12 GB + 256 GB. Its battery is packed with 4,500 mAh power and supports 65W fast charging.
Realme GT 5G still had to make compromises
It should be noted, though, that the below $500 pricing does come with some compromises. Unlike other Snapdragon 888-powered flagships, Realme GT 5G does not have an IP rating, so it is not water-resistant. There is also no mention of HDR 10+ certification, which has been a common feature among high-end smartphones.
While the Realme GT 5G sports a rear-facing triple camera setup, its lens composition is not on par with other expensive flagships. It has 64 MP wide, 8 MP ultra-wide, and 2 MP macros sensors. The Galaxy S21, with prices starting at $799, comes with 64 MP and two 12 MP lenses.
Realme GT 5G release date, availability
There is another caveat -- Realme GT 5G is only available in China right now and will start shipping on March 10. However, Realme has found success in under markets in Europe and India over the recent years making. That means a wider availability cannot be ruled yet.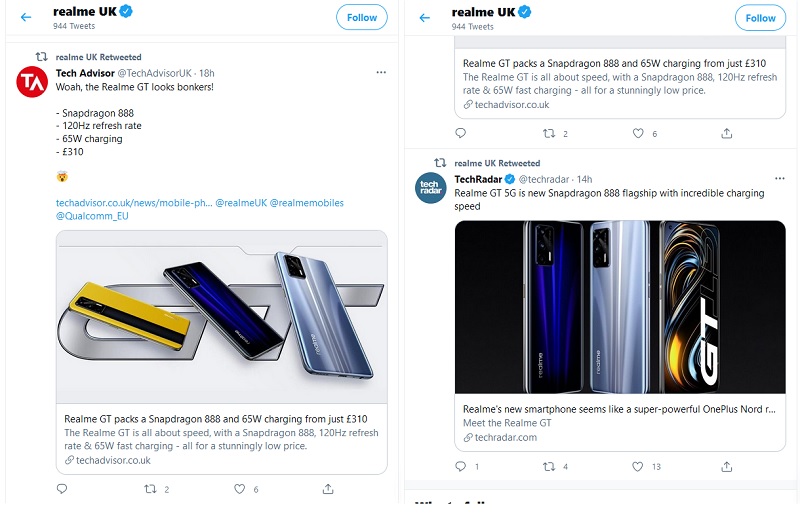 Screenshot / Twitter (@realmeUK)
It is also worth noting that the official Twitter page of Realme UK has been retweeting articles about the Realme GT 5G. While this could be just the page's way to support its brand, it could also be a subtle teaser to UK customers that a cheaper Snapdragon 888-equipped smartphone is on its way.