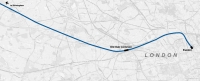 HS2: the government has failed to value the real benefits – expert
Feb 13, 2020 00:11 am UTC| Insights & Views Technology
A new high-speed rail route between London and the north of England has finally been given the go-ahead. Boris Johnson, the UK prime minister, announced the governments decision, despite the dramatic escalation in...
Driverless cars won't deliver a transport revolution – and the auto industry stands to lose out
Oct 20, 2019 10:17 am UTC| Insights & Views Technology
The breathless hype around driverless electric vehicles once promised an urban transport revolution, with claims that new technologies would ease congestion and eliminate harmful emissions. The potential benefits of these...