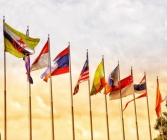 US-China tensions give Southeast Asian nations reason to find other partners elsewhere
Aug 09, 2020 22:49 pm UTC| Insights & Views
As tensions between the US and China intensify, Southeast Asian countries, including Indonesia, should rethink their ties with the two great powers. They should lessen their dependency on the two countries by strengthening...
Why Indonesia's aggressive stance on China in South China Sea may fall short
Aug 01, 2020 15:02 pm UTC| Politics
Defying the global COVID-19 pandemic, Chinese fishing fleets with the support of armed Chinese Coast Guard ships have been penetrating Indonesias territory in the past few months. The move is part of Chinas growing...