Jul 26, 2020 12:26 pm UTC| Health
If a surgeon arrived at the operating theatre wearing a mask they had made that morning from a tea towel, they would probably be sacked. This is because the equipment used for important tasks, such as surgery, must be...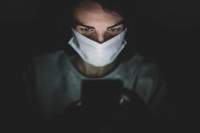 Does your face mask protect you or other people?
Jul 16, 2020 14:22 pm UTC| Health
Should we wear face masks? We tell our children to cover their mouths when they cough, so when we cannot predict who may or may not have COVID-19, it makes sense to wear a face covering in public. But not all face...