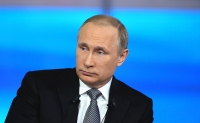 The wild decade: how the 1990s laid the foundations for Vladimir Putin's Russia
Jul 02, 2020 13:46 pm UTC| Politics
By securing victory in a national vote on constitutional changes, Vladimir Putin could now remain president of Russia until 2036 if he chooses to stand again. After 20 years in power, the narrative of Russias chaotic 1990s...
Why Russia, Turkey and Iran are natural allies
Jan 05, 2017 19:40 pm UTC| Insights & Views
The ceasefire in Syria brokered by Russia, Turkey and Iran has opened the way to peace talks in Kazakhstan between the Syrian government and opposition. The Kazakh president, Nursultan Nazarbayev, will play peacemaker and...