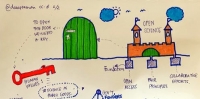 India's plan to pay journal subscription fees for all its citizen may end up making science harder to access
Nov 04, 2020 00:19 am UTC| Life
India, the worlds second-most populous country, is planning to make scholarly literature available for everyone under its latest science, technology and innovation policy. The policy will push for the whole country to...
Indonesia publishes the most open-access journals in the world: what it means for local research
Oct 09, 2020 08:07 am UTC| Insights & Views
Indonesia is a world leader in the number of free-to-read published research journals. Journals published with open access (OA) licenses are available to read for free and can be legally redistributed. With the...