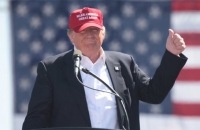 A field guide to Trump's dangerous rhetoric
Jun 21, 2020 03:31 am UTC| Politics
All leaders are demagogues. You may not realize this, because weve come to associate the word demagogue with only dangerous populist leaders. But in Greek, the word just means leader of the people (dēmos the people +...
Michael Cohen's guilty plea? 'Nothing to see here'
Aug 28, 2018 15:32 pm UTC| Insights & Views
On the afternoon of Aug. 21, when news of Paul Manaforts conviction and Michael Cohens plea deal emerged within hours of one another, the social media channels of Donald Trumps most vociferous supporters went dark. The...