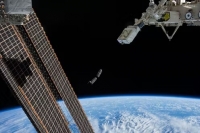 Tiny satellites are changing the way we explore our planet and beyond
Mar 27, 2022 14:09 pm UTC| Science
Want to go to space? It could cost you. This month, the SpaceX Crew Dragon spacecraft will make the first fully-private, crewed flight to the International Space Station. The going price for a seat is US$55 million. The...
The story of a wave: from wind-blown ripples to breaking on the beach
Jan 07, 2020 15:37 pm UTC| Nature
Its a cliché, but Aussies love the beach. And little wonder: with 36,000 kilometres of coastline, Australia is blessed with some of the best beaches in the world. Around 20 million Australians live within 50...