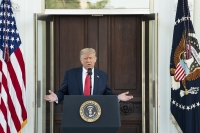 Donald Trump has COVID-19. How might this affect his chances of re-election?
Oct 05, 2020 13:41 pm UTC| Politics
With just a month left until the November 3 US presidential election, contracting the virus could have politically positive or negative consequences for President Donald Trump. These will, of course, be contingent on how...
8 reasons why impeaching Donald Trump is a big risk for the Democrats. (And 3 reasons why it's not)
Sep 28, 2019 14:05 pm UTC| Insights & Views Politics
US House Speaker Nancy Pelosi has announced the Democrats have begun a formal impeachment inquiry into President Donald Trump over allegations he tried to pressure the Ukrainian president to investigate a Democratic...