Do I really need this crown? Dentists admit feeling pressured to offer unnecessary treatments
Nov 02, 2020 07:01 am UTC| Health
If your dentist recommends a crown, your wisdom teeth extracted, or some other common treatment, you may wonder whether its really necessary. We dont know how common such over-servicing is. However, our research, which...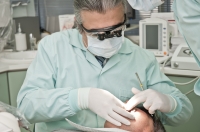 Can I still go to the dentist? How coronavirus is changing the way we look after our teeth
Apr 04, 2020 06:58 am UTC| Health
The coronavirus pandemic is changing the way we access health care, and dental care is no exception. Dentists are no longer allowed to provide a raft of care, such as regular check-ups and tooth whitening, to minimise...