Modern video games have been known to have large file sizes at launch, and it appears that the same can also be said for the upcoming "Gran Turismo 7." The PlayStation-exclusive racing game is launching in a little over a month, and a new leak suggests its fans may have to make some adjustments to make room for it on their consoles.
The Twitter page @PlayStationSize tipped on Sunday that "Gran Turismo 7" may require nearly 90GB -- 89.445GB, to be exact -- of storage space at launch. The page has been a reliable source of pre-launch details about games coming to PS consoles. The same source noted that that file size does not include the day one patch yet. That means the actual storage space required to play the racing game at launch is likely to exceed 100GB.
Meanwhile, it is worth noting that the official product pages for the PS4 and PS5 versions of "Gran Turismo 7" both advise customers that the game's "minimum" required storage space would be 110GB. With that and PlayStationSize's recent discovery, fans are speculating that the first-day patch could be around 20GB.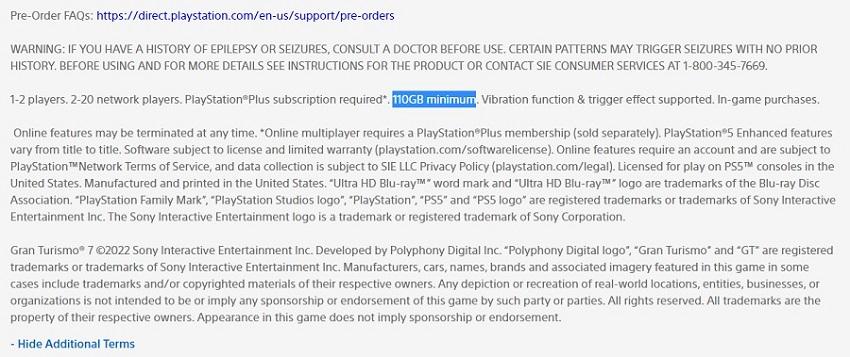 From PS Direct
Fans replying to the post noted that this much file size for an AAA game like "Gran Turismo 7" is not entirely surprising. Some noted that their copy of "Gran Turismo Sport" currently occupies more than 100GB on their console, but others pointed out that that file size already includes several major patches.
On paper, it can be recalled that the PS5 consoles are advertised with 825GB SSD space. But after accounting for pre-loaded programs and its operating system, players have around 667GB of usable storage only. But considering how large other AAA games' file sizes have been, fans may need to make some adjustments to prepare for the arrival of "Gran Turismo 7."
Removing existing games is not the only choice for PS5 players. Luckily, Sony has already started supporting the use of external SSD to allow users to expand the console's storage capacity.
Once players have the storage space sorted out, they can patiently wait for the release of "Gran Turismo 7," which is currently scheduled on Friday, Mar. 4. But the latest leak also revealed that players would be able to pre-load the game starting on Feb. 25.