Google's highly anticipated TikTok counterpart, called YouTube Shorts, is now available to more users. The in-app feature has reportedly started to roll out in the beta stage for YouTube viewers in more regions.
YouTube Shorts in-app beta rollout spotted outside India
A few months after YouTube Shorts first rolled out in India, a beta version of the TikTok-like feature from Google is now live for United States users. XDA Developers was the first to notice that the app has added a new section called Shorts with the word "beta" in smaller characters.
The in-app feature has also been spotted in a non-U.S. Android device, as seen in the photo below. However, creating YouTube Shorts content on the said device is still not an option, possibly because the feature's full version has yet to be released.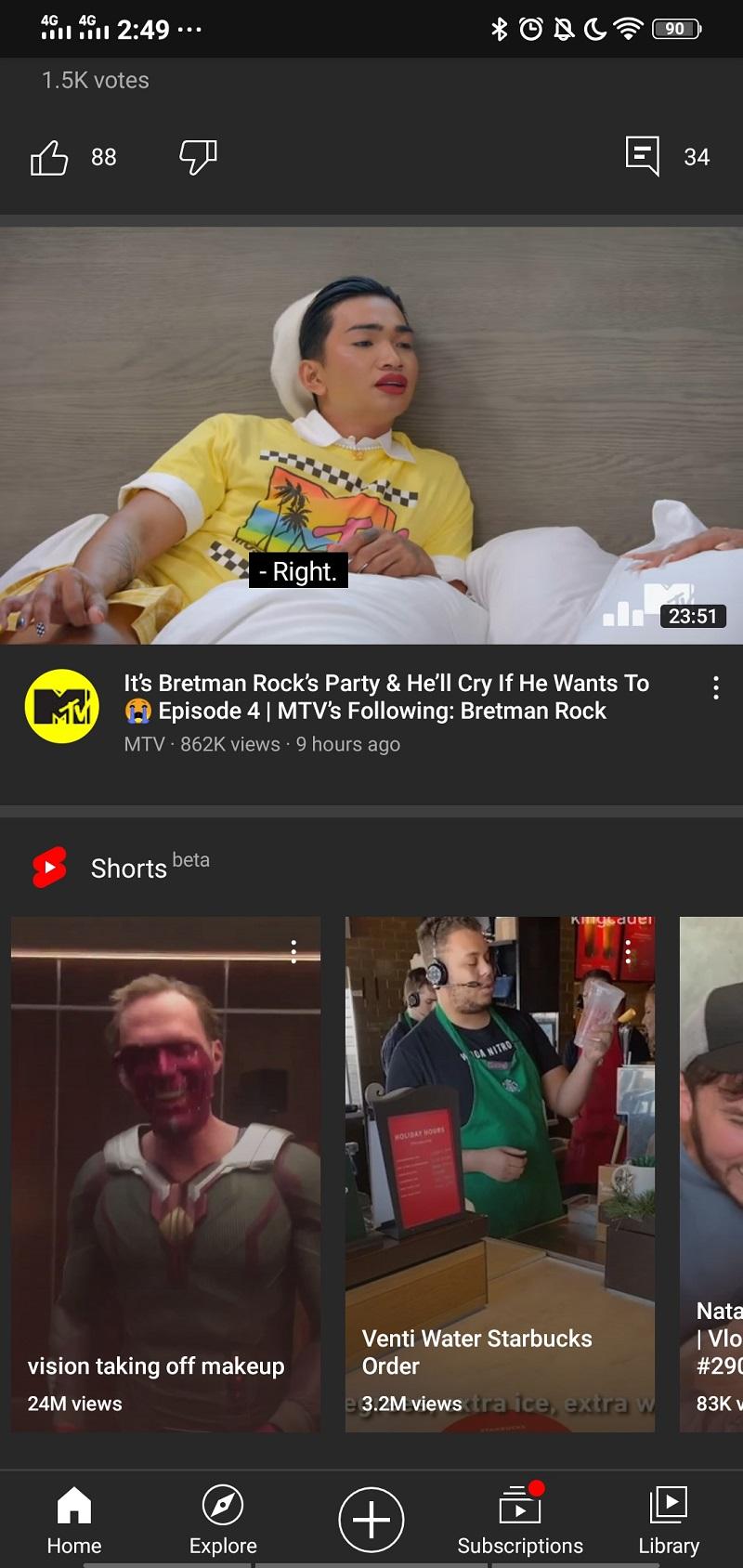 In-app YouTube Shorts beta appears in an Android device outside India, U.S.
The news of YouTube Shorts beta arriving in more countries after its initial launch in India last year is not entirely surprising. YouTube chief product officer Neal Mohan announced in a February blog post that Shorts is one of the new video-creating tools the company will release. The same post noted that YouTube was planning to deliver Shorts in the U.S. in March, which the company has now fulfilled.
YouTube Shorts: What it is and how it works
YouTube Shorts has been widely compared to the popular app TikTok because it focuses on short-form videos within its main platform. As the beta run currently shows, users will not have to install a separate app as Shorts gets added as a new feature with its own section.
The video tool is best for content that runs for only 15 seconds. When a user taps on to one YouTube Shorts video thumbnail, that video blows up (still within the app) and will play on auto-loop like on TikTok. Viewers can then swipe up to watch the next videos recommended to them. Some of the functions currently available on YouTube Shorts beta include the like button, a comments section for each Shorts, and an option to share it outside the YouTube app.
It is safe to say that YouTube is one of the most recognizable apps and online platforms worldwide with "over 2 billion monthly logged-in users." But its venture into short-form videos through YouTube Shorts is not surprising considering TikTok's worldwide success over the last couple of years.
Despite being banned (India) or almost getting banned (U.S.) from crucial markets, the China-published app has reportedly amassed more than a billion downloads so far, per Sensor Tower. App Annie reported late last year that TikTok could surpass an average of 1.2 billion monthly active users in 2021.
As of mid-February, Google reported that the number of Indian content creators using YouTube Shorts has tripled since December. Mohan's statement did not provide an exact figure on that front, but the company confirmed, "YouTube Shorts player is now receiving more than 3.5 billion daily views globally."
Featured photo by freestocks.org from Pexels