Negative equity is looming for some home owners – but you only need to worry if you need to sell
Nov 09, 2022 03:41 am UTC| Economy Real Estate
It feels like a perfect storm is building. The rising cost of living and higher interest rates are putting household budgets under stress, and falling house prices could push some home owners into negative equity. On...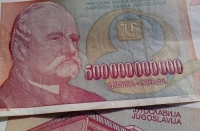 Jul 19, 2022 15:00 pm UTC| Economy
An entire generation has never experienced life with high inflation. But that is set to change. Countries like Australia, Canada, the United Kingdom and others are reporting rising inflation. In New Zealand, inflation has...