It might be time to face the possibility that no new "Killzone" title would be released in the future, along with a full PlayStation 5 upgrade of its latest game. Developer Guerilla Games confirmed that the franchise's official website "has retired."
Why 'Killzone' fans might never get a full PS5 upgrade and a new title
After the success of "Killzone Shadow Fall" on the PS4 platform, many fans of the first-person shooter series had hoped for a new title to be released in the following years. When PS5 was launched, some also hoped for the game to be remastered or fully upgraded to take advantage of the new console's specs and features.
It did not seem impossible at the time since other developers and studios under the Sony Interactive Entertainment had done the same for popular PS4 games. But that changed this week when the official "Killzone" website was officially retired.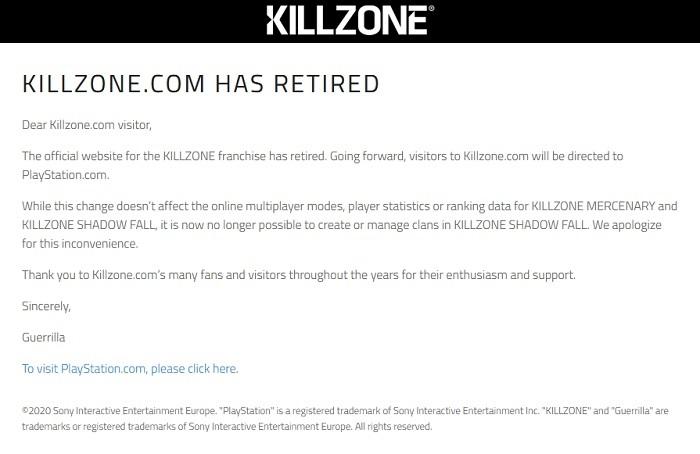 Screenshot from Killzone.com
Anyone visiting the website can no longer browse through any "Killzone" content and will be greeted by a message titled "Killzone.com Has Retired." This message will not be permanently on the page, though, as future visitors will be redirected to Sony PlayStation's official website.
What happens to 'Killzone: Mercenary' and 'Killzone Shadow Fall'
The retirement of Killzone.com does not mean its latest titles -- "Killzone: Mercenary" on PS Vita and "Killzone Shadow Fall" -- will be obsolete. These games can be accessed, although a crucial feature retires with the official website.
Guerilla Games tells fans that online multiplayer modes, player statistics, and raking information on both "Killzone" titles will still be available and accessible. However, "Killzone Shadow Fall" players can no longer manage their existing clans or create new ones.
Now that a full upgrade of "Killzone Shadow Fall" seems unlikely to happen, the game can still be played using the PS5 console. Thankfully, it was originally released on PS4 and the majority of the titles released in the last-generation console support backward compatibility. Through this technology, players can still access their game and their progress on the new hardware. Even though this is not a full upgrade, it should still run with noticeable improvements, especially in the gaming resolution and load times.