"GTA V" has to be one of the biggest additions to the Xbox Game Pass library this year. However, subscribers may be losing their free access to the popular game soon just when the rumor mill started picking up clues that Rockstar Games may be working on a new feature.
The title came to Xbox Game Pass just a few days after the New Year's, giving new fans a chance to explore Los Santos and Blaine County. Gamers who were subscribed to the Ultimate tier or Xbox Live Gold were also given free access to "GTA V's" multiplayer "GTA Online." While it was always unlikely for "GTA V" to stay in Xbox Game Pass forever, some fans may have expected it to be available in the subscription service longer.
The exact date of when "GTA V" will leave Game Pass is still unknown. If fans would visit the page for all Game Pass titles and use the "Leaving soon" filter on the left side of the screen, they will find that "GTA V" is one of the four titles that belong in that category.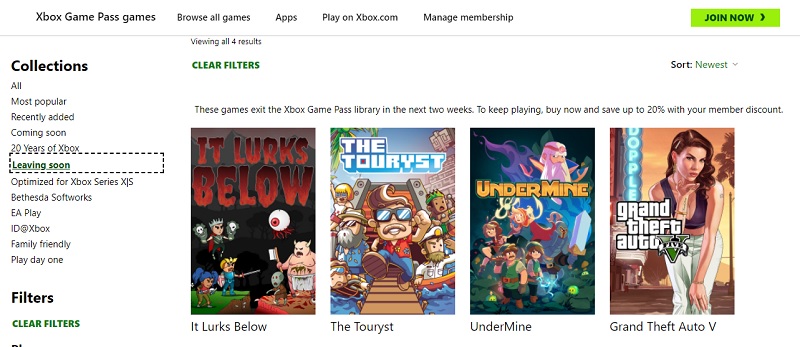 From Xbox.com
While this filter is active, the page also displays a note that reads, "These games exit the Xbox Game Pass library in the next two weeks." Other games that will exit from the service within this period include "It Lurks Below," "The Touryst," and "UnderMine."
On the bright side, fans who want to continue playing "GTA V" after it leaves Xbox Game Pass can get the full game at a lower price. The same page indicates that Game Pass members can enjoy a 20 percent discount, and they may want to consider this offer considering that recent leaks suggest Rockstar is working on new features that will allow players to carry over their single-player progress once the "enhanced and expanded" version of the game arrives on Nov. 11.
The rumored feature was first reported in January, and reliable leaker TezFunz2 posted an update this week sharing "more findings" from dataminer alloc8or that a function called "Character Transfer" has been added to the game's code. In a follow-up tweet, TezFunz2 clarified that the new services were included via the Los Santos Tuners update on Xbox One and PS4. It means transferring game saves may only be supported from the last-gen systems to Xbox Series X/S and PS5.