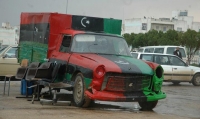 A decade later, no end in sight for Libya's political transition
Jan 26, 2022 04:37 am UTC| Insights & Views Politics
Two days before Libyans were to go to the ballots for a new interim president on December 24, the countrys election officials finally admitted what had become obvious: the first-round vote would not take place. Citing...
There's no shortage of players in Libya's conflict. But few champions for peace
May 26, 2020 08:41 am UTC| Politics
The year-long battle for Tripoli has been heating up in recent weeks despite widespread calls for a ceasefire during Ramadan and the coronavirus pandemic. As the violence escalates and the number of foreigners involved in...