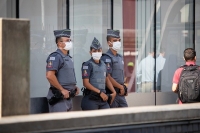 Coronavirus in India and Brazil: new forecasts for when economic giants will hit peak
Jun 21, 2020 04:11 am UTC| Economy
While many of the worlds top ten economies appear to be past the peak of the coronavirus pandemic, India and Brazil are still on the way up. This is a tragedy unfolding for both countries. It is also bad news for the world...
Brexit: nuclear medicine at risk from no-deal
Aug 01, 2019 04:35 am UTC| Insights & Views
With Boris Johnson as prime minister, a no-deal Brexit looks more likely. Indeed, Goldman Sachs recently raised the probability of a no-deal Brexit from 15% to 20%. Faced with an uncertain future, it is difficult to make...