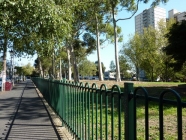 Shh! Don't mention the public housing shortage. But no serious action on homelessness can ignore it
Oct 12, 2019 08:37 am UTC| Insights & Views Real Estate
Today, October 10, is World Homeless Day. Next week the Council to Homeless Persons will convene the Victorian Homelessness Conference to discuss options for ending homelessness. On the program are presentations and...
Business as usual? The Sustainable Development Goals apply to Australian cities too
Sep 25, 2018 18:45 pm UTC| Insights & Views Economy
We are still settling Australian cities on unceded Aboriginal lands. With the global agreement on the United Nations Sustainable Development Goals (SDGs) in 2015, development has finally come home to the developed world....