Inflation is rising in Kenya: here's why, and how to fix it
Jul 19, 2022 14:57 pm UTC| Economy
Inflation has hit many countries recently, from the United States to Sri Lanka. In Kenya, too, the rising prices of basic commodities have left most citizens wondering whats going on. The price of a 2kg packet of maize...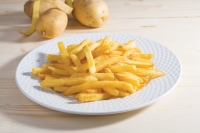 Kenya's potato drama: farmers can only meet standards if there are some
Feb 02, 2022 09:25 am UTC| Insights & Views
It all started as the mere lack of potato chips at a global fast food chain that couldnt keep up with demand during the festive season. It then became apparent that big fast-food players dont serve Kenyan-grown potato...