Basketball fans around the world are still reeling from the news of Kobe Bryant's recent passing. Tributes for the former Los Angeles Lakers star have been held during NBA games as well as through "NBA 2K20." One of the latest efforts by the game developers to pay respects for Bryant is the addition of "KB" patches on the in-game Lakers jersey, as first seen on the real-life basketball uniforms.
'NBA 2K20' developers add KB patches to Lakers jersey to remember Kobe Bryant
Earlier this week, developers of "NBA 2K20" updated the uniform of the LA Lakers to match the latest design. It now features small but very important additions in the form of black KB patches over the right side of the chest area.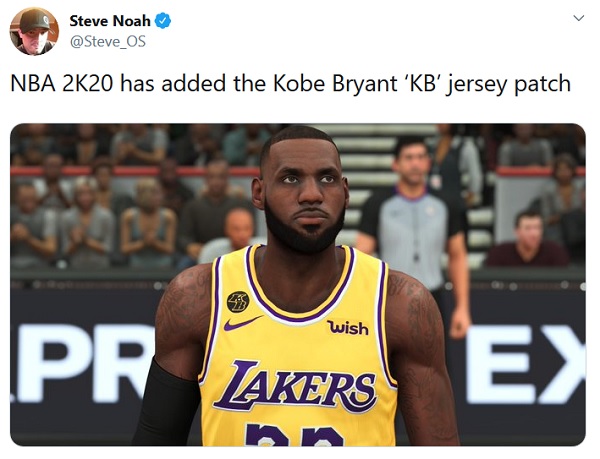 Screenshot from Twitter/@Steve_OS
Fans who have also been following the NBA games may have already seen this patch since the LeBron James-led roster played against the Portland Blazers in a home game. However, the "NBA 2K20" uniforms do not feature the black band draped on the other side of the jersey.
Kobe Bryant died from a helicopter crash on Jan. 26 with his 13-year-old daughter and basketball protégé Gianna Bryant. Seven other people, including their friends, Gigi's teammates, and the pilot, also passed away due to the accident.
Since Kobe's passing hit the news, "NBA 2K20" players came up with several ways to honor Mamba through the game's features. Several gamers dressed their characters in a Lakers jersey and gathered in the Neighborhood for a parade to honor the 18-time NBA All-Star.
Some players joining matches in the Rec have also remembered Kobe, with each team committing 24-second violations as a nod to his jersey number. This has also been done by NBA teams who had games following Kobe's death.
'NBA 2K21' cover: Fans call for Kobe Bryant's return to next game's Legend Edition
There is no denying that Kobe's contributions to basketball have been felt beyond the NBA, so fans are exhausting the ways they can pay tribute to him. The tragic news of his death has also sparked calls among "NBA 2K20" players to make him the Legend Edition cover athlete for the "NBA 2K21" iteration.
If "NBA 2K20" developers would make it happen, it would not be the first time Kobe was featured in a Legend Edition cover of the game. The five-time NBA champion was the face of the "NBA 2K17" Legend Edition following his retirement in 2016.