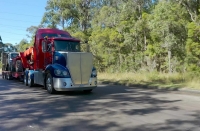 The trucking industry has begun to turn electric — but passenger vehicles will take a little longer
Apr 30, 2021 08:19 am UTC| Business
Australias trucking industry is making moves to go electric. The latest development a system for using swappable batteries instead of time-consuming recharge stations for long-haul trucks between Sydney and Brisbane ...
Electric car sales tripled last year. Here's what we can do to keep them growing
Feb 09, 2020 23:41 pm UTC| Insights & Views Technology
A total of 6718 electric vehicles were sold in Australia in 2019. Thats three times as many as in 2018, but its still small beer. More than a million fossil-fueled light vehicles (including SUVs and utes) were sold in the...