Into a bizarre future: why the liberal promise of true liberty is a lie
Jan 25, 2017 00:19 am UTC| Insights & Views Politics
Wrong life cannot be lived rightly. So wrote the 20th-century German philosopher, Theodor Adorno. He was referring to the kind of life which defenders of Western liberal capitalism have long claimed to be the ultimate...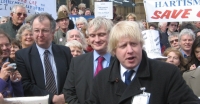 Bojophrenia: a new word for a new world
Jul 03, 2016 02:36 am UTC| Insights & Views Politics
Boris Johnson stood before the media and his supporters on June 30 to announce that he will not be contesting the leadership of the Conservative Party. He will not, after all then, become prime minister of a United Kingdom...