It now appears more likely for the "Alan Wake Remastered" to launch on Nintendo Switch in the near future. The game's version for the portable console has been spotted recently on the official website of a US rating board.
"Alan Wake Remastered" was released earlier this month on PlayStation, Xbox, and PC via Epic Games Store. Since then, developers did not provide any indication that the game could launch on more platforms. But a version for Nintendo Switch has been rated twice now by separate rating boards.
VGC spotted that the "Alan Wake Remastered" page on the Entertainment Software Rating Board (ESRB) has been updated and now includes Nintendo Switch as one of its supported platforms. While it is best to wait for Epic Games and Remedy Entertainment's confirmation, having information from the ESRB adds weight to speculations that the title could also launch on the Nintendo console.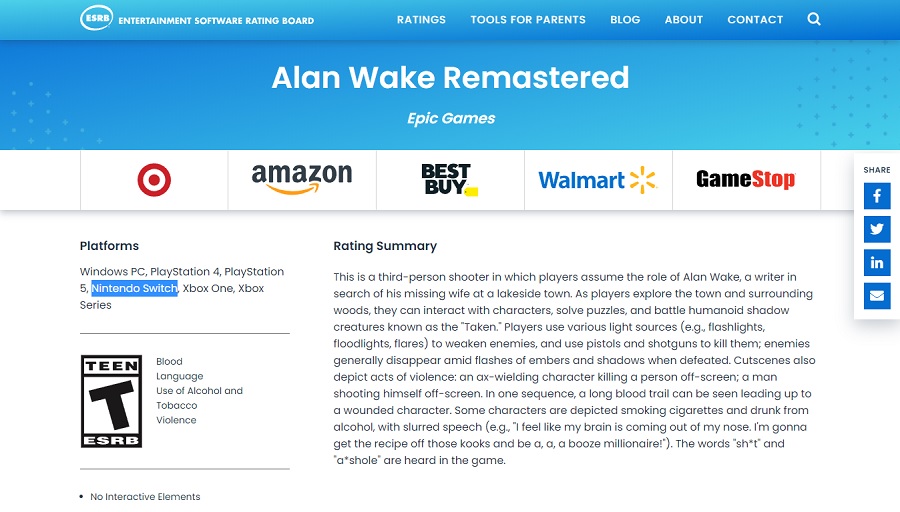 Photo from ESRB
As with other platforms, the ESRB rated "Alan Wake Remastered" for Teen gamers only or players ages 13 and up due to blood, language, use of alcohol and tobacco, and violence depicted in the game. "Cutscenes also depict acts of violence: an ax-wielding character killing a person off-screen; a man shooting himself off-screen," the ESRB notes. "In one sequence, a long blood trail can be seen leading up to a wounded character."
This is not the first time that a Nintendo Switch version of "Alan Wake Remastered" was rated. The same title was seen in Brazil's rating board database that sparked rumors of the game's possible launch on another platform. Publisher Epic Games told VGC at the time that it does not have new information to provide about the game.
As the title suggests, "Alan Wake Remastered" features graphical upgrades in the critically-acclaimed thriller game. Remedy decided not to change the story and most of the gameplay. Creative director Sam Lake said in a previous blog post that the remastered release will be an "original experience" but with improvements in the all-around visuals and character models.
The release of "Alan Wake Remastered" also marked the first time coming to PlayStation consoles after 11 years since it originally launched. The game comes with the complete base game, along with the original story expansions "The Signal" and "The Writer."