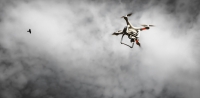 Are drones really dangerous to airplanes?
Apr 10, 2016 00:48 am UTC| Insights & Views Technology Law
Imagine boarding a plane. Economy class. Theres a kid behind you kicking the seat. You put on headphones and try to tune out the world. Immediately after takeoff, you feel a thud and hear an explosion over the sound of...