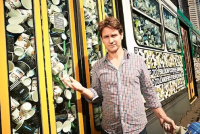 Here's how a TV series inspired the KeepCup revolution. What's next in the war on waste?
Nov 15, 2023 01:42 am UTC| Business
Changing habits can be hard. So when a single episode of an Australian television show prompted a national shift in behaviour, as behavioural researchers, we took notice. The first (2017) and second (2018) seasons of...