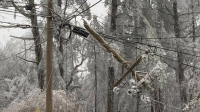 How the Texas electricity system produced low-cost power but left residents out in the cold
Feb 20, 2021 12:16 pm UTC| Nature
Americans often take electricity for granted until the lights go out. The recent cold wave and storm in Texas have placed considerable focus on the Electric Reliability Council of Texas, or ERCOT, the nonprofit...
What the battle over control of PG&E means for US utility customers
Nov 19, 2019 03:07 am UTC| Insights & Views Business
Theres a battle raging over the ownership of PGE Corp., one of the nations largest utilities, with cities, hedge fund managers and even customers all in the running. Growing liabilities over its role in several deadly...