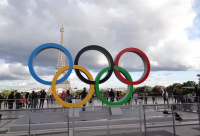 365 days to the Paris Olympics: could the mega-event clinch the gold medal of sustainability?
Jul 27, 2023 08:44 am UTC| Sports
Mega-events such as the Coachella Music Festival, the pilgrimages to Mecca and the World Cup have become increasingly prominent in contemporary times, yet we often neglect to consider the environmental impact of bringing...
In Brazil, the future of environmental sustainability needs a strong ally: collectors of recyclable materials
Mar 15, 2023 15:44 pm UTC| Nature
When Luiz Inácio Lula da Silva was sworn in for his third term as president of Brazil on January 1, 2023, he invited a diverse group to accompany him as he ascended the ramp to his offices. Among them, two...