Thinking of breaking up with Twitter? Here's the right way to do it
Nov 23, 2022 05:07 am UTC| Life
After a few chaotic weeks its clear Elon Musk is intent on taking Twitter in a direction thats at odds with the prevailing cultures of the diverse users who call it home. Musk has now begun reinstating high-profile...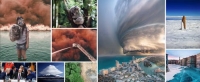 3.2 billion images and 720,000 hours of video are shared online daily. Can you sort real from fake?
Nov 04, 2020 00:21 am UTC| Technology
Twitter over the weekend tagged as manipulated a video showing US Democratic presidential candidate Joe Biden supposedly forgetting which state hes in, while addressing a crowd. Bidens hello Minnesota greeting contrasts...